Case study : Old Precinct Condominium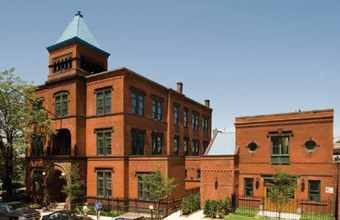 About the Project
43 Herbert Street is a landmark police precinct complex, consisting of a three-story former station house and a stable wing to the east, connected by a one-story passageway. Developed by North Brooklyn Development Corporation (NBDC), this building has been converted to 14 one- to three-bedroom condominium. As a landmark and SHPO (State Office of Parks and Historic Preservation) project, every exterior detail and some interior details are preserved and carefully replicated. The Station House envelope accommodates four apartments per floor. The ground floor units are duplex apartments with recreation rooms in the cellar. The second and third floor apartments are flats. The carriage house includes two apartments and is accessed via the link between the two structures. This project received funding from the NYC Department of Housing Preservation and Development, City Councilwoman Diana Reyna, Brooklyn Borough President Marty Markowitz, and the New York City Housing Partnership.
Goldstein Hall's Role
Goldstein Hall was deeply involved as project counsel for NBDC handling the construction loan closing, the condo plan and the back end sales. The firm helped the parties meet the requirements of several funders and worked with the NYS Attorney General to gain approval for the condominium conversion. Additionally, Goldstein Hall helped insure the project would meet environmental requirements and comply with all issues related to its landmark status.
Community Impact
As part of HPD's New Foundations program, Herbert Street provides affordable homeownership opportunities on an infill site, with particular emphasis on income diversity. The project preserves the landmark details of this historic building while improving the neighborhood's provision of affordable housing.