Case study : El Jardin de Seline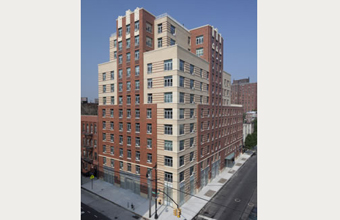 About the Project
A joint venture among We Stay – Nos Quedamos, Inc., MJM Construction Services, LLC, and Melrose Associates, LLC, El Jardin de Seline is a 12-story mixed-use rental apartment building in the Melrose Commons area of the South Bronx. The building offers 84 rental units, 2,000 square feet of community space, and an outdoor courtyard. Eighty percent of the units are for families below the area median income and 20% are set aside for formerly homeless families.
Goldstein Hall's Role
This challenging project required cooperation and collaboration among three parties: the local community-based organization, the general contractor, and the architect. Goldstein Hall recognized the need to craft agreements to protect the interests of each party. Through continual negotiation and commitment to the project's goals, Goldstein Hall fostered negotiations and agreements that satisfied all parties and led to the successful completion of this important community development.
Community Impact
Aside from addressing significant housing needs for the poor and formerly homeless, the building also has numerous green features, including daylight and occupancy sensors in common areas, energy efficient fixtures and appliances, bamboo flooring, a green roof, high-performance windows, and solar panels. El Jardin de Seline has received LEED Gold Certification and is NYSERDA Energy Star certified. The project received recognition for compliance from Enterprise Green Communities.