Case study : Washington Bridge View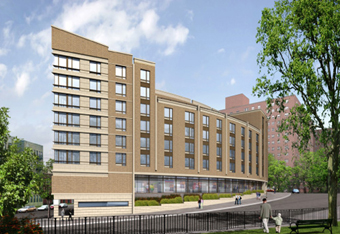 About the Project
Mastermind Management Ltd., a privately held real estate development company based in the Bronx, developed this mixed-use project on Featherbed Lane in the Morris Heights section of the Bronx. The project consists of more than 13,000 square feet of retail condominium space and 48 affordable cooperative units with 22 parking spaces. Funding was provided by NYC Housing Development Corporation, Bank of America, NYS Affordable Housing Corporation, NYC Housing Preservation and Development and the Bronx Borough President.
Goldstein Hall's Role
Faced with a challenging real estate market in 2009, Goldstein Hall worked with its client, lenders, and government authorities to restructure the financing and offering plan to ensure the viability of the project. Today, Washington Bridge View's residential and commercial units are fully occupied, resulting in a financially successful project for the owner and greater stability and revitalization of the neighborhood.
Community Impact
The Washington Bridge View development represents a perfect combination of affordable housing and green construction. The construction project was one of the first affordable green cooperative buildings in the area and exceeded the requirements of the NYS Energy Conservation Code by incorporating additional insulation, efficiency heating and lighting systems. In addition to the environmentally-friendly and affordable units for low- and moderate-income residents and families, the project created more than 200 construction jobs.