Case study : Ebenezer Plaza: Phase 1A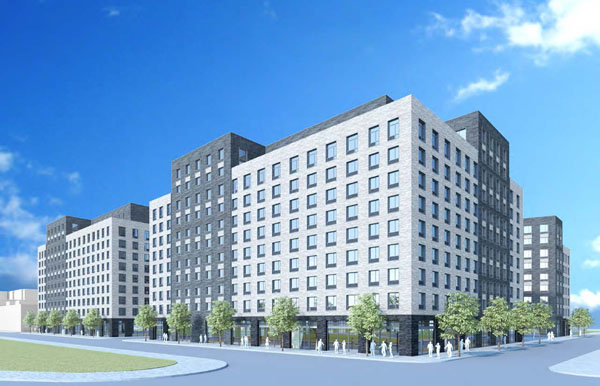 About the Project
The project will consist of a 198 unit new construction multifamily affordable housing development on privately owned vacant parcels. These parcels, owned by the Church of God of East Flatbush, were sold to the joint venture partners in return for newly constructed Church condominium units in the new buildings. The Project was financed through tax-exempt bonds issued by the New York City Housing Development Corporation, brownfield and federal low income housing tax credit equity syndicated by the National Equity Fund, DOJ subsidy, capital from the New York City Department of Housing Preservation and Development, and Resolution A funding, thanks to the support of the Brooklyn Borough President, the Honorable Eric L. Adams. The development is also subject to a Mandatory Inclusionary Housing Restrictive Declaration, which requires a portion of the project to remain permanently affordable.
Goldstein Hall's Role
Goldstein Hall, as part of their faith based special initiatives, successfully negotiated and crafted an affordable housing joint venture development agreements between M/WBE developers – Brisa Builders and Evergreen City – along with Procida Construction and Church of God East Flatbush – for a new project called "Ebenezer Plaza: Phase 1A" in the Brownsville neighborhood of Brooklyn. As counsel to the joint venture, Goldstein Hall successfully supported the joint venture through an acquisition closings, construction closing and a tax credit syndication closing, as well as Project restructuring to account for changes in the market.